At this point I don't even know how to say that I found another coffee table without feeling deep pangs of guilt and embarrassment. It's turned into a bit of a sad joke, this whole switching coffee tables every month thing, but I just can't stop myself when I spot something I really dig.
I'm addicted. I love coffee tables. Probably even more than I like sofas.
But, it could be worse, I could be addicted to eating a "household cleanser" or sofa cushions like those folks on My Strange Addiction.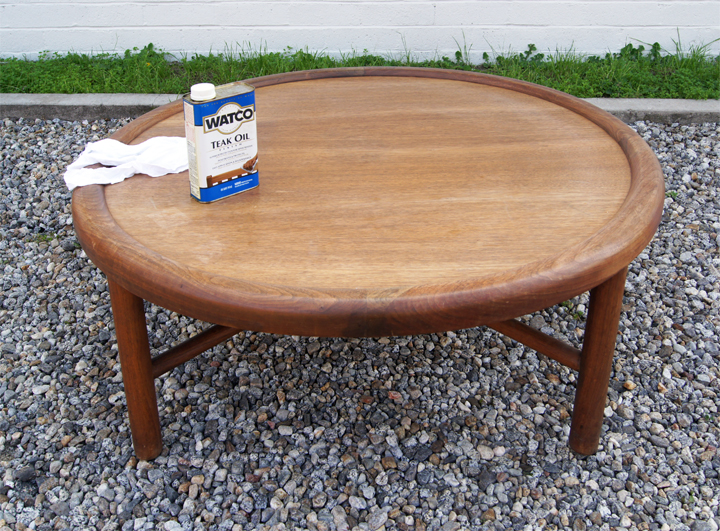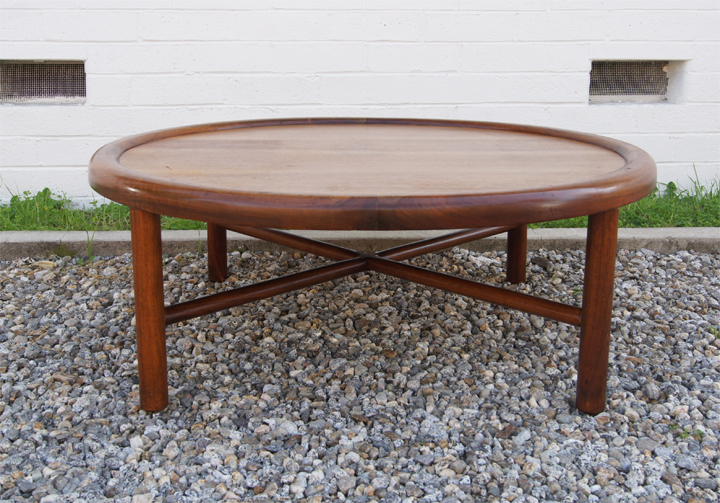 Amazing what teak oil, Feed 'n Wax and some elbow grease can do. Seriously, if you find a piece of wood furniture and it looks shabby and neglected but is structurally fine – GOOD. Ask for a discount and then get your oiling on! Trust me, it will look perfectly amazing with just a little bit of effort.
Curious about how to spruce up furniture? Check out this tutorial.
The Boy gets mad when I freshen up furniture on our patio since oil and debris get everywhere. Now I'm trying to do it out in our driveway to avoid the mess, which I'm imagining is such a great show for the neighbors. As if we weren't weird enough already.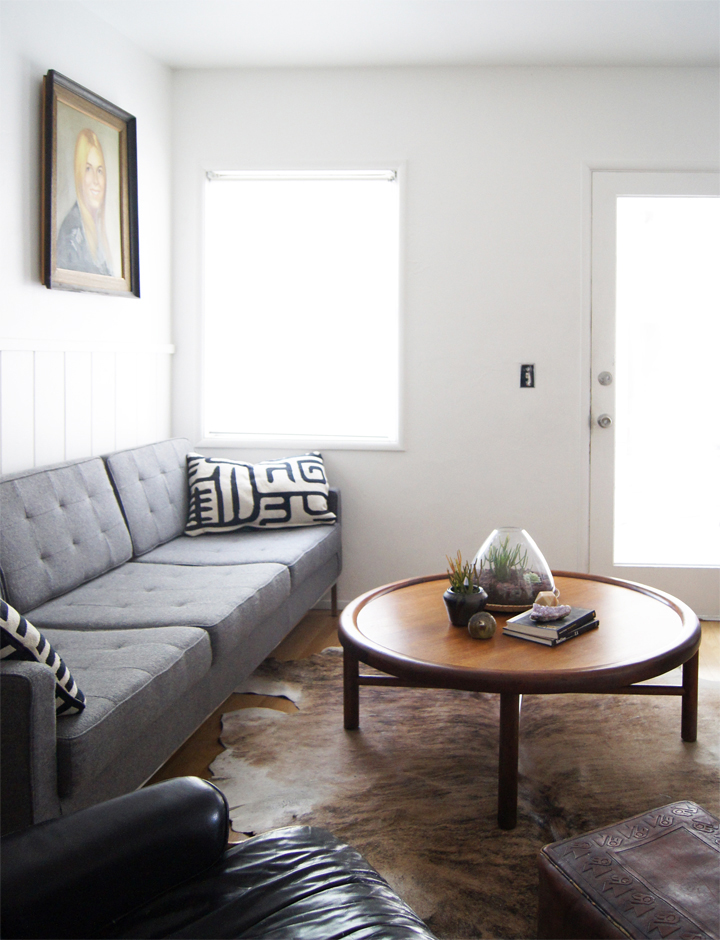 Come on. Give. It. Up.
This is a pretty incredible table.
I even vignetted it up like a proper stylist.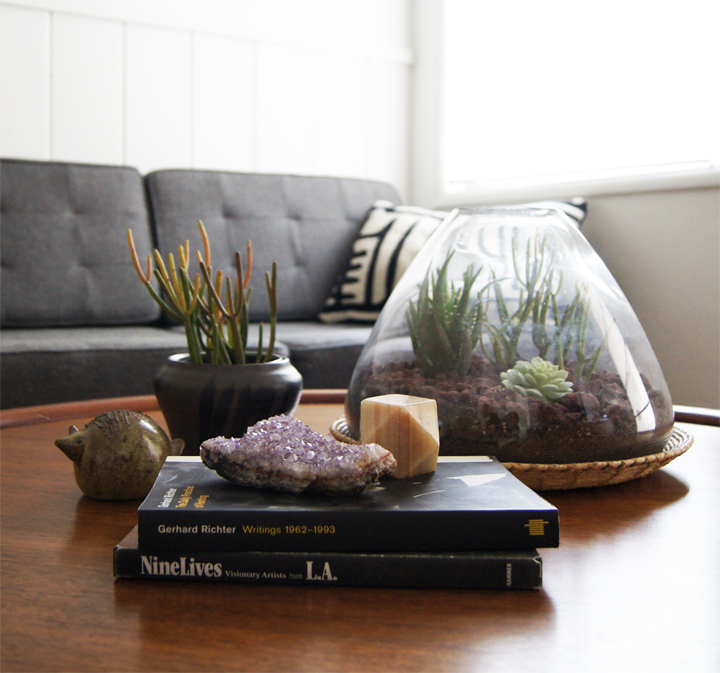 I can stack books! With things on top of them!
Are you guys coffee table vignetters?
I'm normally not. I don't like a bunch of stuff cluttering up a table I use everyday since I like to put my feet up, have drinks and other things strewn about that are frankly, fairly ugly. I noticed that the first batch of pictures were looking kind of sad, so I thought "styling" would help liven this table up. Don't expect my coffee tables to be like this if you come over.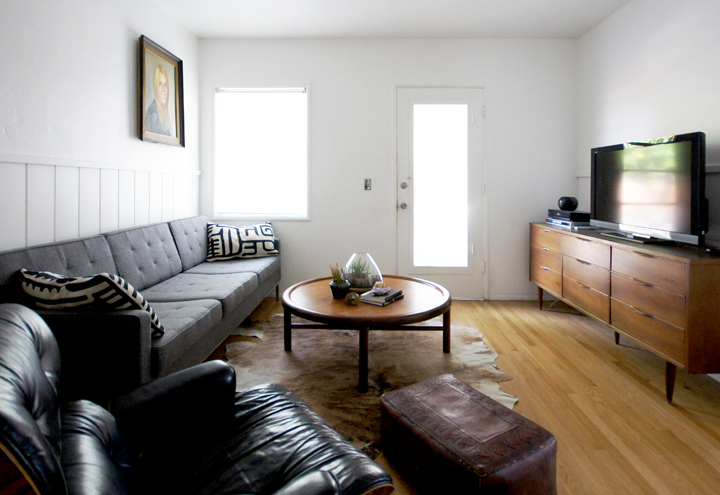 I imagine there is this question of why the den's furniture is laid out the way it is. It's a weird little room. Difficult to photograph and harder to understand in pictures. It's kind of like a big L with a built in desk on the other side and an entrance to the kitchen smack in the middle. Definitely challenging to space plan.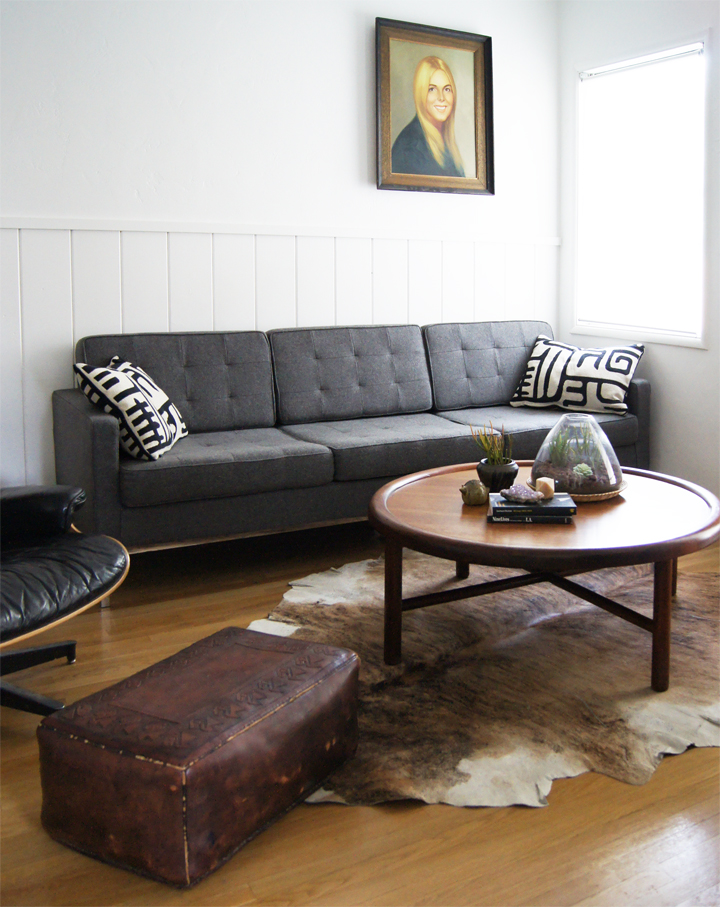 Oh, did you notice the old sofa is back. I know, I foretold it.
I also know that the portrait of what people like to refer of as "Lindsay Lohan" should be way lower. As a former gallery director and curator, I am ashamed that I've let this hang way above eye level  for years. Art hung too high or improperly is a giant pet peeve and I am a complete hypocrite for letting this happen.
Problem is, that if the painting hangs at the proper mid line it hits the wainscoting and hangs all wonky…then you hit your head on it when you sit on the sofa and it falls on you and hurts you and then people sue me. It's one of those things I don't think about in real life until I see it in a picture. Different art for above the sofa is a must, but I haven't found anything appropriate so "Lindsay" stays super high. Tee hee.
Also, screw the wainscoting. It ruins my life.