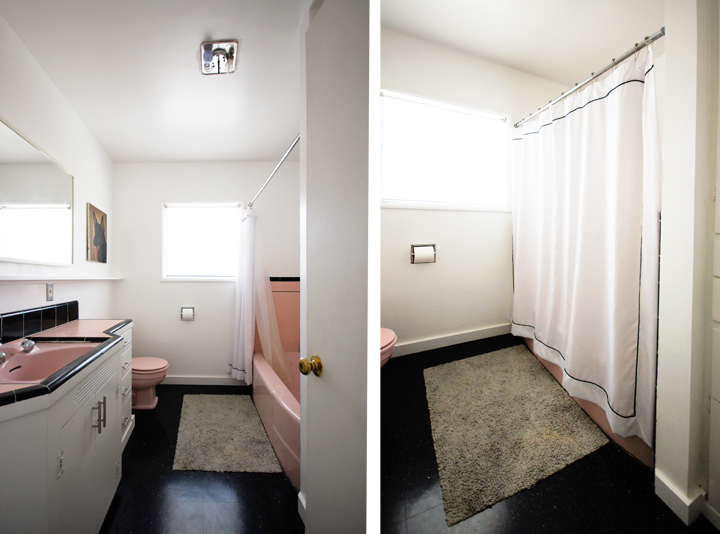 Our pink bathroom has been pushed aside and ignored for a loooong time. We won't be doing any major overhauls on this retro pooper due to the cost prohibitive nature of a gut and rebuild and I might feel bad since most of the tile and fixtures are in pretty decent shape. Don't get me wrong though, I would LOVE to rip it apart and make the room more functional and way less pink.
Instead of the sledge hammer method, I want to do a super cheap and dirty upgrade to make the place feel a little less forlorn and neglected.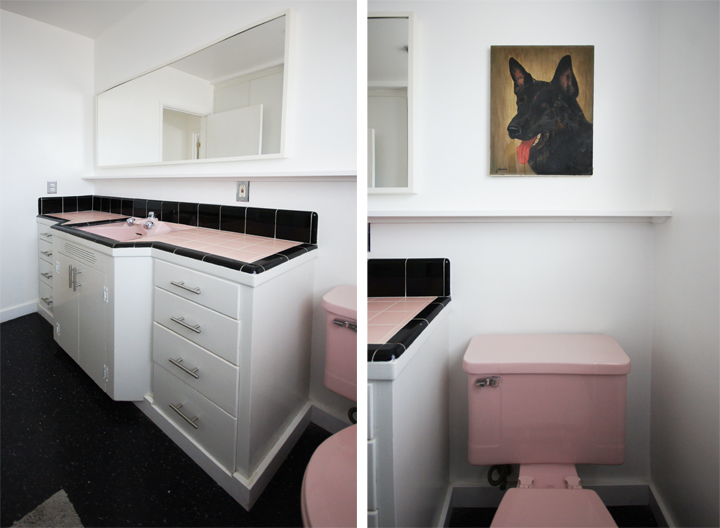 I don't know about you guys, but I kind of hate every shower curtain rod option in the world. I plan on customizing basic plumbing pipe to make a more stylish curtain rod as well as some towel holders (we've had NO towel holders for over two years! Inexcusable) kind of like this: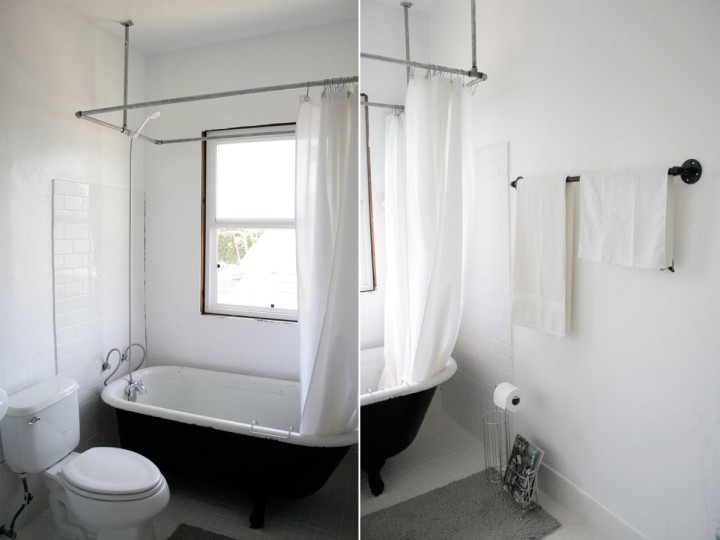 Months ago I bought a basic white canvas shower curtain from CB2 on super discount sale (which after a quick google seems to be discontinued). Why is it so hard to find a simple white canvas shower curtain with out any frills or patterns or weird things all over it that doesn't cost a bajillion dollars? WHY stores? WHY!
Otherwise, the poor Ikea bathmat has seen better days, so a dark option that blends into the floor is a must or maybe a crazy rug. Who knows.
The lighting also desperately needs to be addressed. That might mean that the PH knock-off could find a new home or we could just throw up a pair of simple porcelain fixtures with clear bulbs – like we did in the office. I've also been contemplating installing a wall mounted vapor tight light fixture on the wall near the mirror or vapor lights everywhere, but we will see.
Maybe I need a Tomado shelf to mount somewhere. We have to figure out how to store our shampoo and ugly things while in the shower…ugh. Stupid pink bathroom. I want to tear you apart.