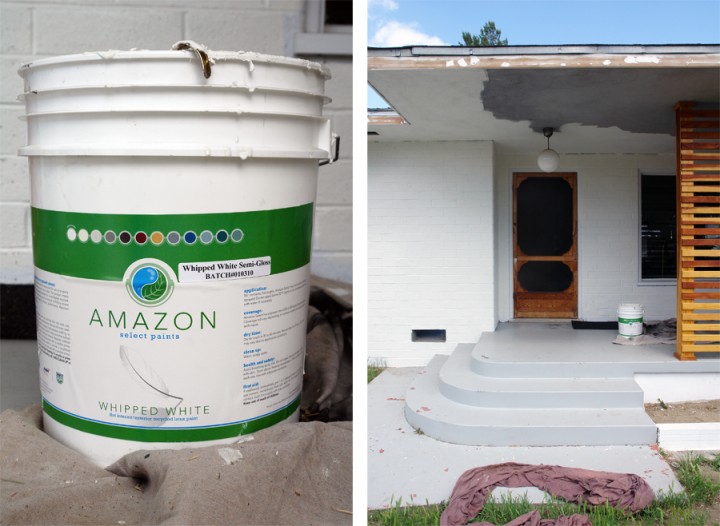 Thanks to a tip from Melissa awhile back we decided to go ahead and commit to finally painting the house. That nasty primer white is going the way of the dinosaurs only after a year and a half of hemming and hawing over color choices. There is no going back now that we have 25 gallons of Amazon Whipped White in a semi-gloss finish.
What's Amazon paint? Well…
"Amazon uses leftover latex paint to manufacture recycled content paint that is comparable in quality to virgin paint sold by national manufacturers. Amazon Select® recycled content paint is available in 12 pre-mixed colors, is environmentally preferable to virgin paints, and carries both the Green Seal and Master Painters Institute stamp of approval."
We spent $240 (Thats about $40 for each five gallon bucket!) on the paint and another $40 at Home Depot on some better brushes, extra rough nap rollers, pans and all the fixings to paint this brick beast up. I am all about being "green" or whatever by recycling and reusing if the price is right and the quality is good. Amazon has really delivered; it's such great paint!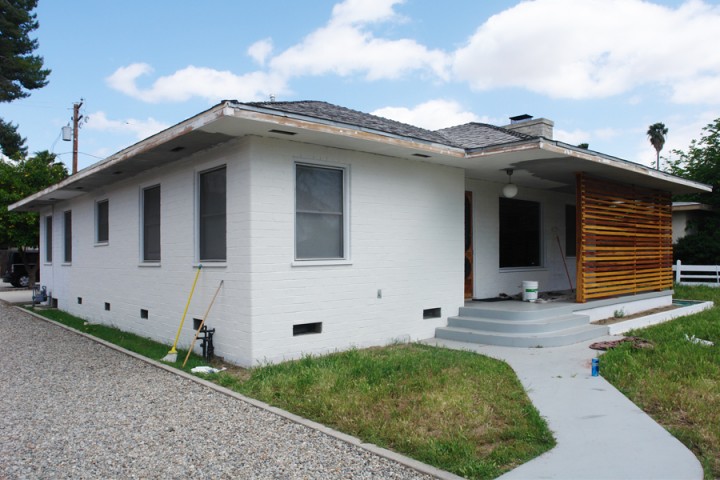 The color is a little warmer than a true bright white (you can see on the difference on the back of the side wall where it's still primer) but I think it works wonderfully with the redwood and isn't as blindingly white as a pure white. It rolls on really well compared to the thin crappy primer plus I really love the finish – I'm ecstatic!
We spent most of mothers day painting and got about 1/4 of the house done. I think once all the prep is finished we could bust out most everything in a week of long days. There is still a ways to go with fixing the fascia as well as painting the stucco underneath the eaves (which is a bitch) but hopefully we can get it all finished before the desert heat kicks in.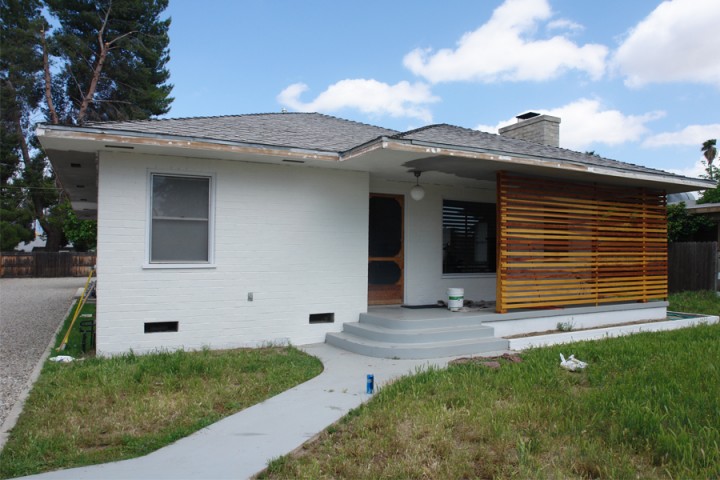 I'm covered in paint! 2010 Year of the Exterior is progressing along nicely.