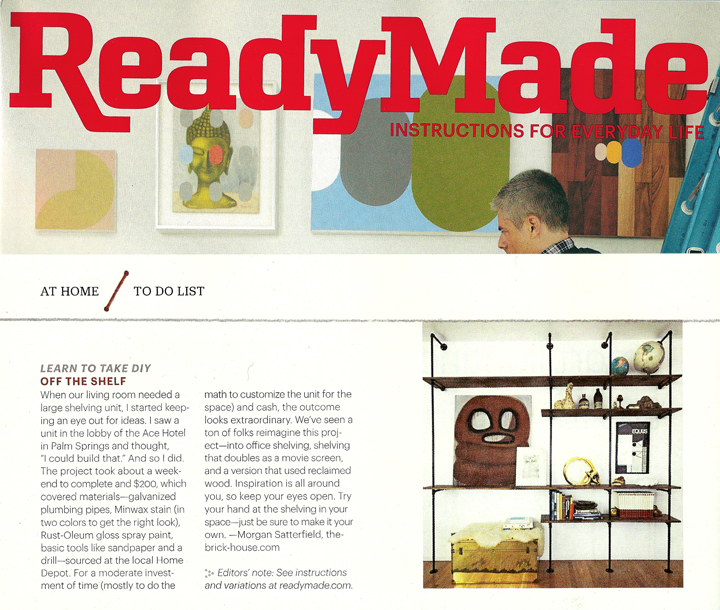 Apologies for the press dump, just trying to keep track of happenings around the internet and beyond…
Finally got a hold of a copy of ReadyMade Magazine (can you tell by the scan?). Well look at that, I have a little project article in a print magazine. Nice! Thanks to Sonia for introducing me and the ReadyMade staff for taking a chance on a little DIY'er in Hemet. Oh, and for any editors out there, I just wanted to mention that I love freelance. Hey now!
Some nice interview action happening around the interweb as of late:
>Style At Home did a sweet Featured Blogger post about The Brick. That's a magazine and in Canada – double points.
>The Designer Pad has a nice write up about our project as well.
>And ANA, the LOVELY & AMAZING ANA of Rearranged Design asked me some naughty questions.
Also, a big thanks to all those who mentioned our new fence bench.
>Door Sixteen
>Apartment Therapy
>CasaSugar
>Curbly
And one last nod to Elle Interior for their mention of our shelves. Thank you everyone, my heart is filled to bursting.
For extra bonus pleasure, I've updated all my DIY tutorials, so if there is something you want to try over the weekend check out how HERE.
Have a great weekend full of magical childlike delight in the face of an overwhelmingly brutal holiday season. You've made it through to the other side of a link bonanza. Congrats. I love you.