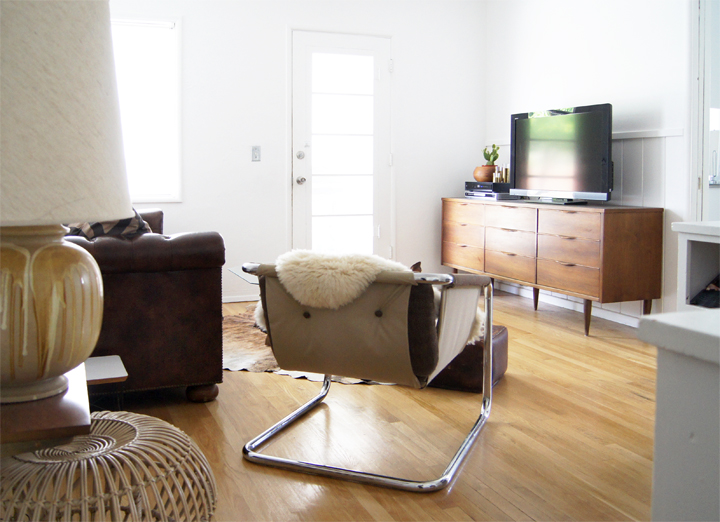 I mentioned that the den was oddly laid out. I swear, it totally is. It's tiny, has three entrances, a huge built in desk and most importantly houses the precious cable and television that our lives and decor must revolve around. I watch TV unashamedly and I love it.
Check out the small walking gap between the desk and the chair. This is precise reason the sofa is always in the corner – there is physically no other place it can go. I know, it's not ideal, but it's all the space allows for. Suck it den.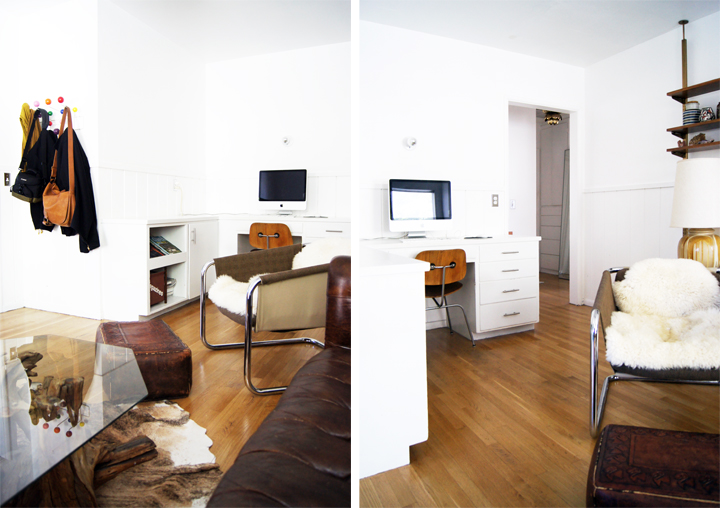 This office half of the den is one of my least favorite parts of our home, but ironically, also the place where I spend insane amounts of time. I'm not bitter. I'm not totally seething with fury over this.
When we bought the house the first thing I wanted to do was rip out the desk. This plan was vetoed, but every time I clip that desk edge with my upper thigh I dream of taking a sledge hammer to this thing.
This stupid effing desk. This ugly bulky poorly laid out terrible crappy built in desk. I try to avoid photographing it since its dumb and ugly and I hate it – and normally its covered in paper – because yeah, bloggers lie. My desk is this clean on photograph day or like once a month for special guests.
We can't tear it out because all the flooring would have to be replaced and frankly, I'm just not willing to dump a bunch of cash into the desks removal and the repair that goes with it (because, oh yeah, there is even more stupid effing wainscoting that would have to be dealt with and the last thing I'm paying for is to fix that hot mess).
I would like to put a door on the weird open section since its stupid. Also, I need to move the electrical outlet down inside the desk, because WHY IS IT OUT THERE ANYWAYS? Then all the ugly cables could be hidden, and not by loose papers, but by being smarter than a desk.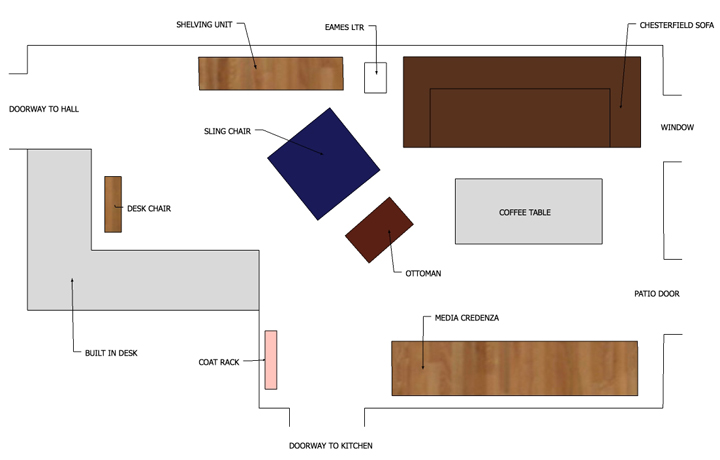 Does this very simplified floor plan explain what the layout dealio is? There isn't a lot of leeway for another type of furniture layout – although I have tried and failed – so our biggest hope is to just get the right pieces and live harmoniously with the awkward space through sheer perseverance and willpower.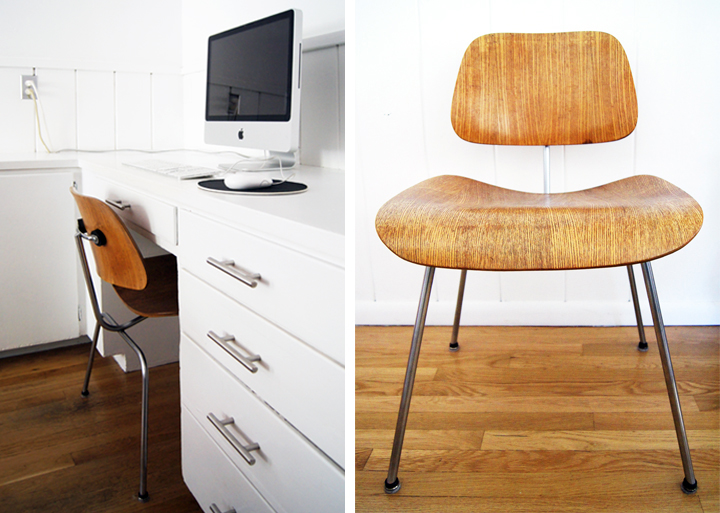 On a happier note, I did recently acquire this vintage Eames DCM chair. This has been on my must have list for forever and I'm ecstatic to report that it is much more comfortable than the Eames shell chair I was rocking before. My big ol' booty is supported and lower back is enjoying the scoopyness.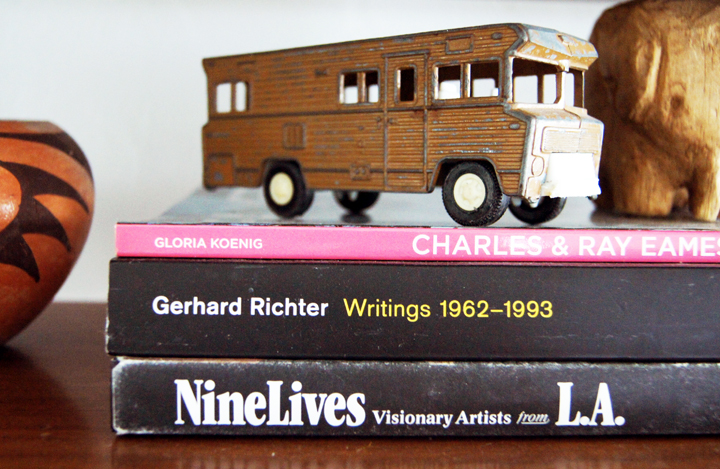 I actually picked the chair up on the same trip that I found the lotus pendant. I grabbed it in a little antique store along with this vintage Winnebago toy as a gift for The Boy. He loves motor homes? I guess that's something you can love right? He's always trying to convince me we need to get one and is constantly showing me craigslist postings, but if we go traveling via a car I want a vehicle we can stuff furniture into. Talk to me about a box van, honey pants.