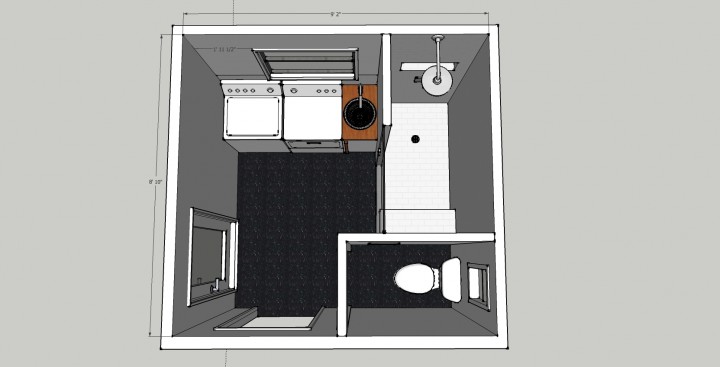 With all our new found sale cash The Boy and I have been discussing how best to spend it. One HUGE item that is in desperate need of a fix up is the back bathroom/laundry room. It's the last big interior project at the house and I'm hoping with a little over $3,000 and a lot of kindness and help from our friends/family (who remodel bathrooms for a living) we can whip this thing into less ugly and more functional shape.
Wonder what it looks like right now? Brace yourself. Check it out HERE.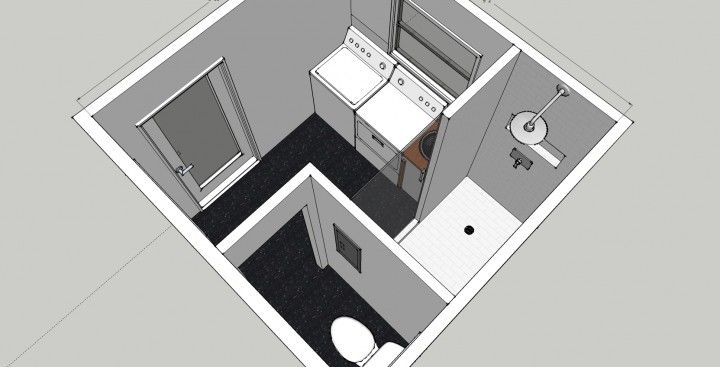 One potential hurtle is the laundry hook-ups and current plumbing. In order to keep costs down, we want to keep everything installed as closely to the current plumbing as possible. So that means…
-The shower needs to stay in that area for the drain and fixtures.
-The dryer needs to go as close to that weird exterior door as possible to reach the 220vlt (which will need to be shortened and dropped down through the attic and INSIDE the house instead of how it's run through the door frame now). We also need to figure out a way to vent the dryer…
-The electrical, drain and two sets of hot and cold facets are located underneath the window. The sink and washing machine therefore need to be installed in that area.
-The electrical panel needs to be flipped into the toilet "poopicle" closet.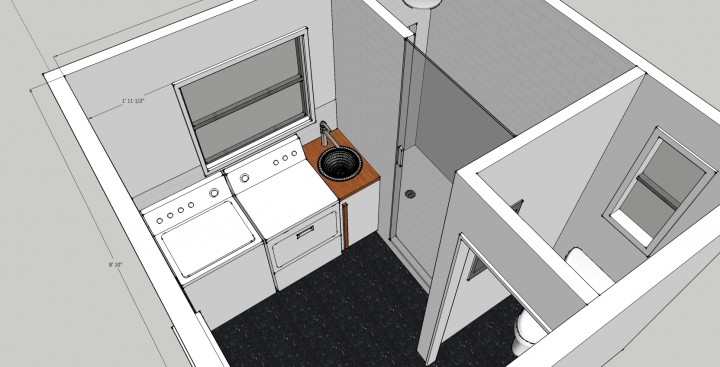 Another way for us to keep costs down is to keep our current dryer and buy a new washer (our vintage washing monster from the 80's is getting GROSS). Squeezing both the washer and dryer in that area doesn't leave a lot of room for a sink (remember – it's already plumbed for a sink in that space) so we need to build a custom cabinet and install a tiny bar sink. I love this simple Lagan one from Ikea, and at only $26.98 it seems to fit in the space and the budget. Combine it with a simple modern faucet and you got a sink to fit in an impossibly small area! I've been going a little crazy trying to wedge everything in that space, but I have all my measurements figured out correctly (finally) and it looks like it will fit.
Underneath the sink we would need to build a simple custom cabinet to hide all the plumbing and store cleaning supplies, extra toilet paper, soap and other ugly laundry room stuff.
Oh, and another way to keep costs down is to stick with the VCT floors that are already there instead of replacing them with something else.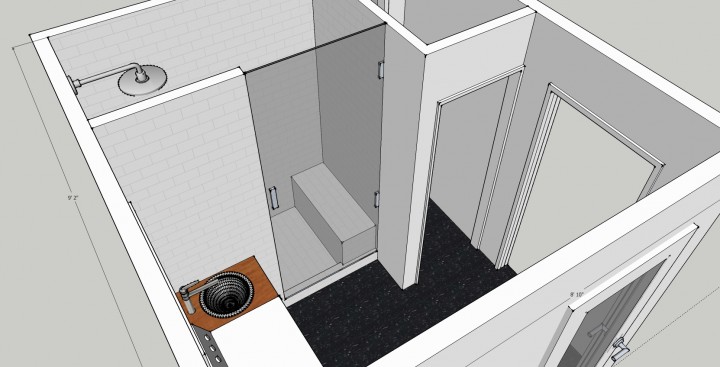 For the shower we would need to completely gut the original corner shower structure and storage closet next to it to expand the space and make it functional (since it totally isn't now). This is where the bulk of the budget would go…
I want to build a little half wall to divide the shower fixtures from the sink and then install a glass door to help stop water spray and leakage on the VCT floor. A glass door would also help let some light into that dark shower corner. I think it would also be great to have a little bench so that – for once – I could shave my legs in comfort.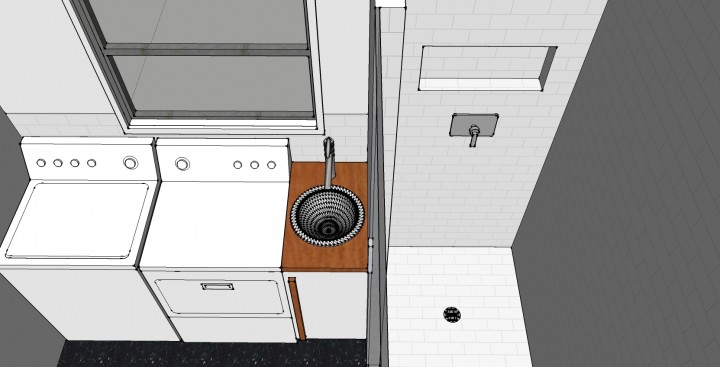 Hopefully we could do a simple rain shower head with a simple/modern shower control. The drain wouldn't have to be moved, which is a plus, but we would have to slightly adjust the plumbing for the shower head and control.
The shower and back splash behind the sink / laundry would get tiled in super simple white ceramic subway tile in either a vertical pattern or stacked in a grid (instead of the offset pattern in this sketch-up version). I would probably just go with that cheapo white subway Daltile or American Olean from Lowes in order to save some $$$. Hopefully we could install a little inset shelf area on the wall to put shampoo, soap and other shower things.
We would also need to buy an exterior door, but I guess that could wait if we totally run out of funds.
The big thing for us to watch out for (and if you came out to the house for the sale, you saw it first hand) is that we CANNOT over improve for our neighborhood. In reality, we already have – but – trying to make this laundry/bathroom actually functional and aesthetically pleasing on a tiny budget is going to be a huge challenge. We can't just gut and redo everything, so we need to be smart with our cash, work with what is already there and keep it simple enough to fit with the style of the rest of the house. My dream would be to totally gut it and lay it out better than than this, but this project is going to be a compromise from the start. I want to be able to do laundry in that room without being a gymnast and take a shower without having to duck down the whole time and be frightened of the flesh eating disease I might be contracting from the disgusting beige tile that won't get clean.