Alma Allen is a sculptor living and working in Joshua Tree, CA in an amazing home and studio he and his wife Nancy built over the past few years while living in a small trailer on their property. I'm amazed at the foresight and dedication a project like this requires seeing as Joshua Tree is like the wild west of construction with few skilled laborers, strangely divided parcels, bizarre coding and extreme weather.
I've long been a fan of his work, but hadn't realized the couple kept a small blog of their adventures in custom home building + making incredible objects. Many thanks to Lily for mentioning it.

Their adorable sculptor in training Frieda and the desert pups Fritz and Poncho.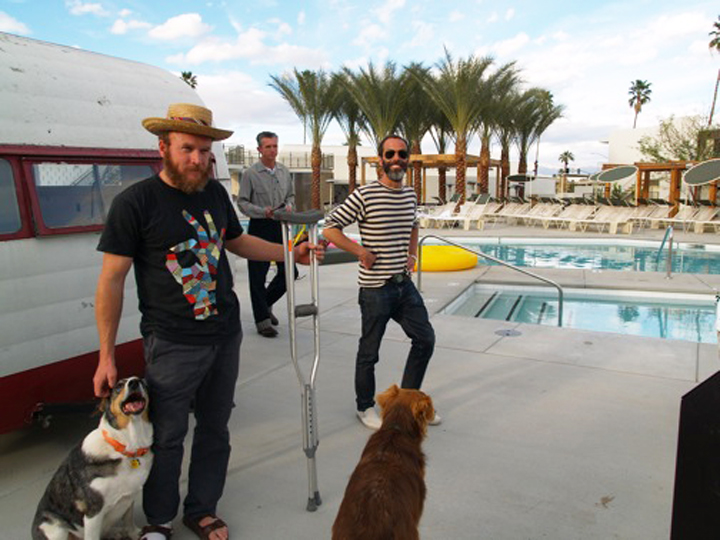 Alma, Roman from Commune and TK Smith (in the back) at The Ace Hotel. Three guys who are constantly inspiring most everything we do around here – you can even check out more of TK and Jill's home HERE.
TK was the one who was kind enough to teach us how to weld (which I still haven't paid him back for since he is a busy dude and super in demand). We are putting those skills to good use in our upcoming landscape projects and can't thank him enough for being so generous.
A few things Alma's made –


It's no wonder why Alma's work is in crazy demand. That coffee table makes my heart go all aflutter.

I love these DIY copper kitchen counter tops. All these possibilities of metal wrapped wood are getting the old brain wheels turning.
I'd love to see more of what this couple has accomplished in such a remotely difficult but beautiful slab of land in the high desert. The little snippets into their projects and home are incredibly intriguing and have refreshed my recently waning design gusto.