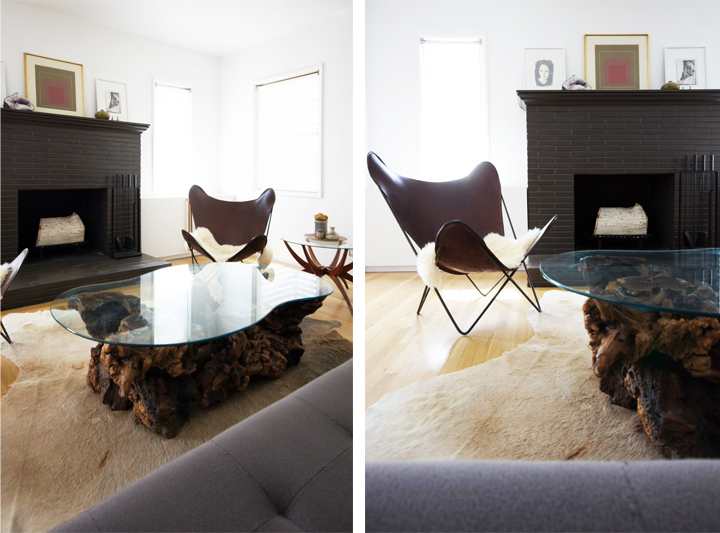 Ever since I bought the ol' giant vintage burl root coffee table (and his two side table friends) there has been what I'm deeming a "mixed" response. Needless to say it's almost been overwhelmingly negative. People just hate this type of table vehemently. Hate it enough to send me emails about how ugly it is, which I must say, takes a HUGE amount of hate since a lot of energy is spent just to comment, let alone locate my email address and then compose a few paragraphs of hate.
I know. It's not for everyone. It is for some folks. It's not the most elegant table in the world, but I just continue to LOVE it no matter what the world thinks. I'm not sure exactly why…maybe it's the beefy weight, the gnarly sculptural mass of it compared to the more lofty and open mid century lines of the rest of the home. My particular coffee table still needs a new rectangular glass top. Like this: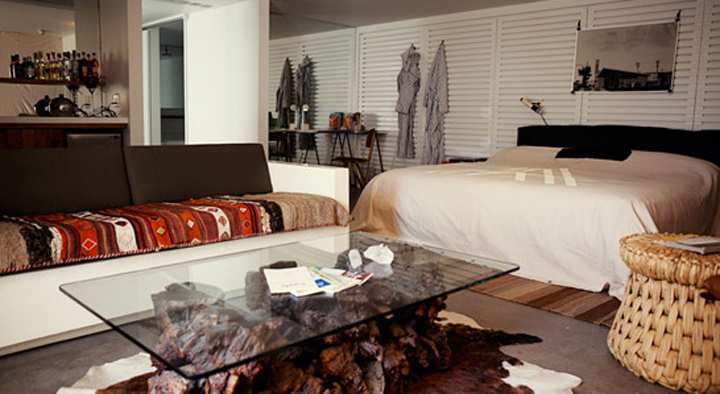 I think a larger rectangular glass would modern it up a bit. I hate the curves happening right now. Also, how sad is it that Viva Terra no longer carries that chunky woven stool. I want a pair so effing bad right now.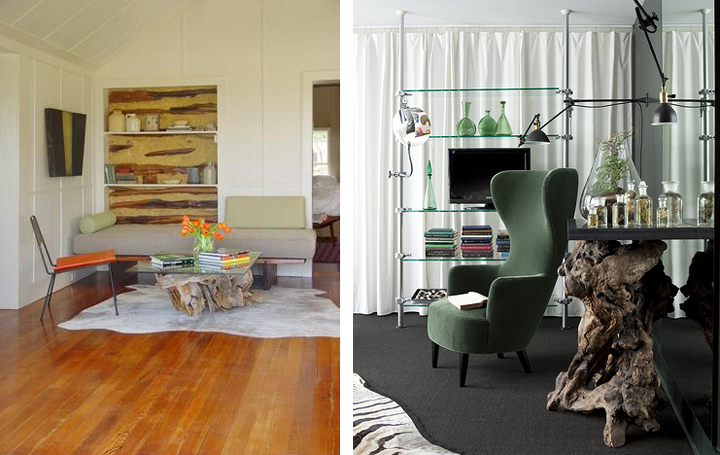 I know there are folks out there that have these kind of tables, but I'm having a hell of a time finding images of burly beasts in actual living spaces. Oh my, I hate that green chair and pretty much everything happening in the photo with the zebra rug…except for the lamps.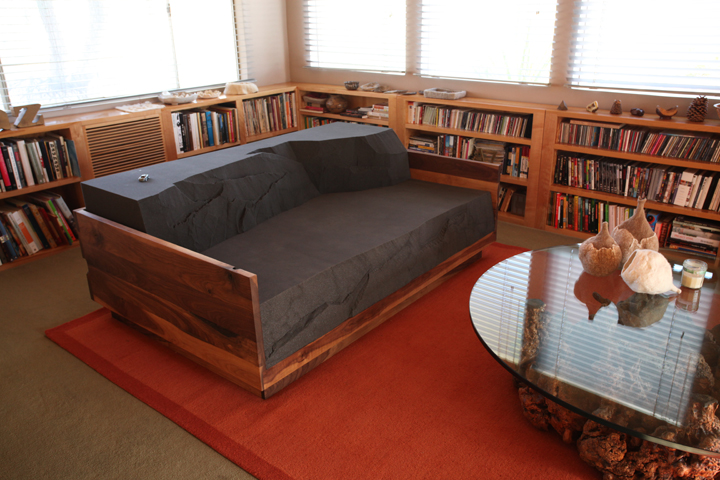 Check out this amazing round burly version at A-Z West…and that killer Raugh Sofa, so dreamy.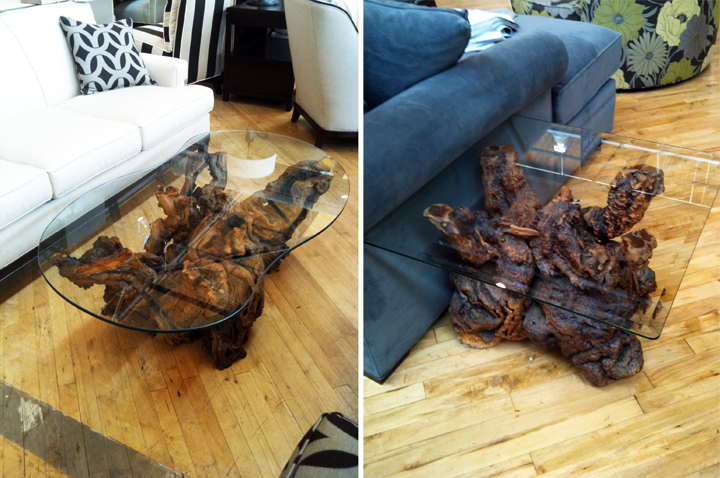 When I was in Los Angeles I hit up HD Buttercup for a little work related research and saw a bajillion teak root, burl, and driftwood tables. All priced around $1,500 – $5,000 depending on size. Someone must be loving this stuff and paying a crap load for it…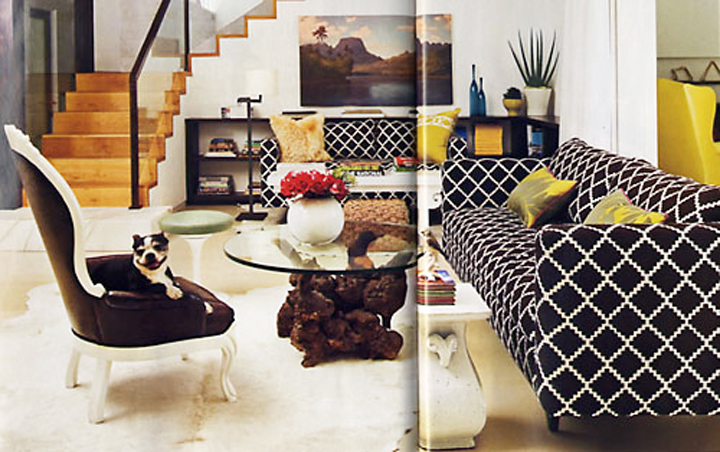 This Metropolitan Home feature may be a little much for my particular palette, but how happy is that Boston fur monster? He loves Burl.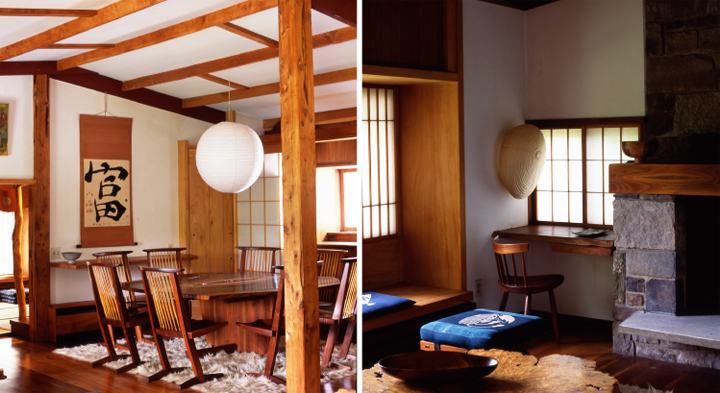 My crazy love of rough-hewn natural slab furniture may have it's more sophisticated roots in a down right obsession with the work of George Nakashima (even though what I can afford to buy tends to be more along the lines of the free love wood working of the late 60's hippy culture). Show me someone who hates Nakashima's work. You can't because he's awesome. It's a fact.
Pretty much I would put as much rough-hewn, raw edge, giant gnarly slabs of wood everywhere and anywhere I can. And I'm probably going to. Eventually.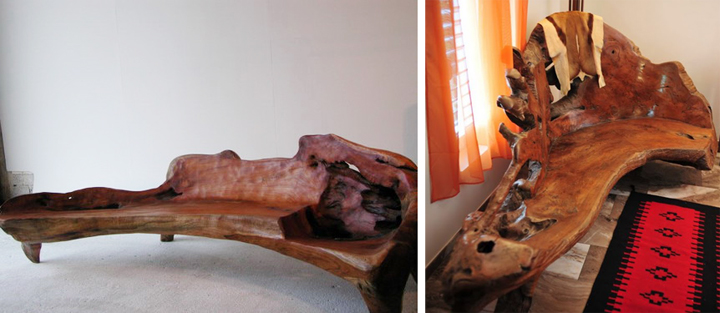 Yeah. I'd even throw some giant teak root benches and chairs around if I had the cash. I've been on the lookout for years, but that stuff is expensive and hard to find – a lethal combo.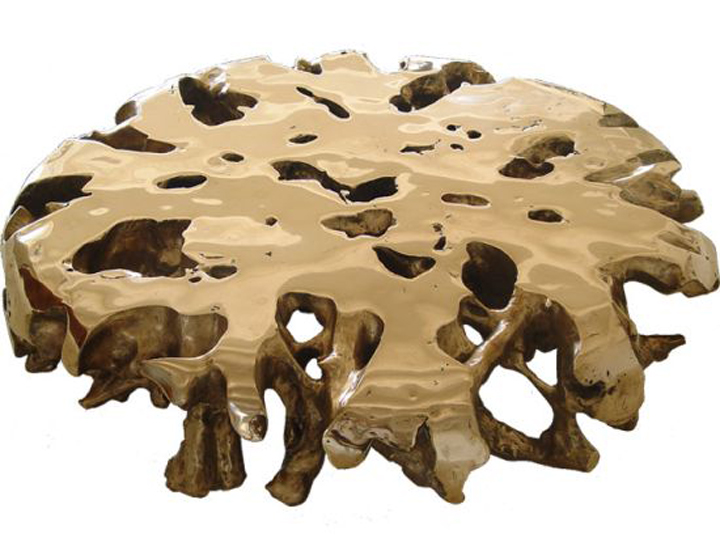 I might as well keep an eye out for this $55K Meteor Table made by Christa. It's rooty and made of shiny bronze? My two favorite things combined into one ultra expensive mess.