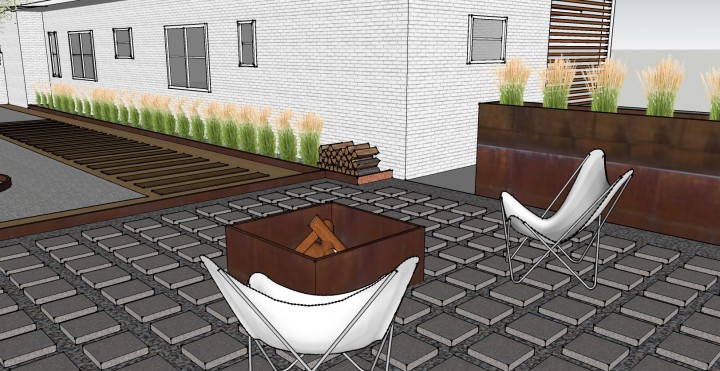 With my new found welding powers I am psyched to start welding up a fire pit, edging, shade structure and a planter for the side yard. Ambitious yes. Impossible? Maybe. I'm going to start with the fire pit and go from there.
Unfortunately the summer heat that has finally hit Hemet and with it I've started to wonder how we can add a small cheap pool to The Brick House. A tiny pool, just big enough to get wet and cool down in but not ambitious enough to need to meet codes and require professional installation. My sister suggested this puffy thing, but while we were in Joshua Tree last week I saw a really amazing DIY galvanized livestock tank pool. A similar version can be seen here at Waldorf Modern.
I was never really happy with what we had going on in the landscaping of the side yard, so I redesigned around the idea of installing a little DIY livestock tank pool.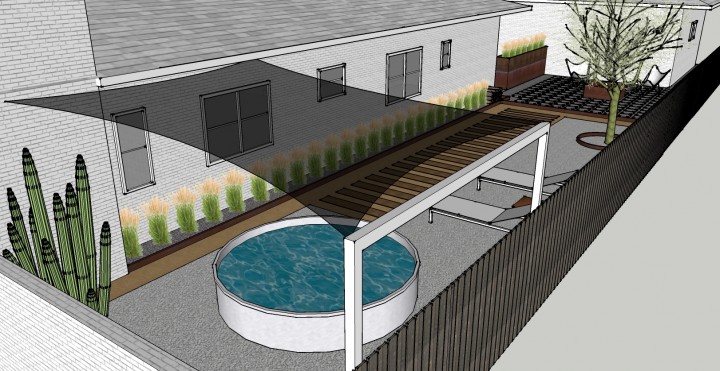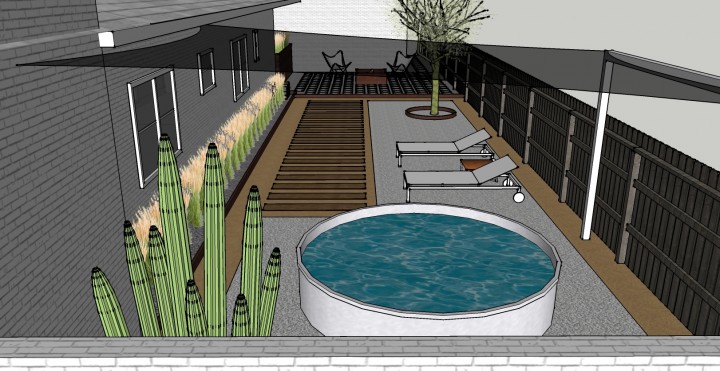 I visited my local livestock supply and found that they had a 10′ and an 8′ version of the round tank.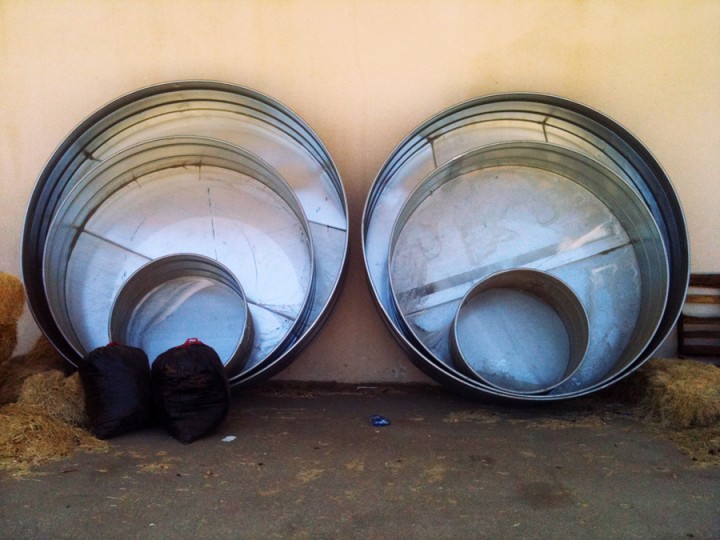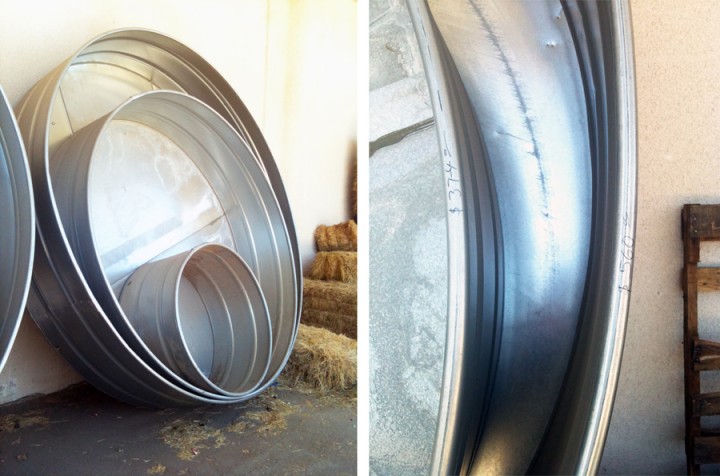 The 8′ version is $374 and the 10′ is $560. Ouch, pricey. Delivery is only $10 though! Our house is literally right around the corner from this place and yeah, it can be a little rural around these parts. When I called the other 15 or so livestock supplies in a 50 mile radius I found that this local place was the only one that stocked a 10′ version, and surprisingly, had the best price.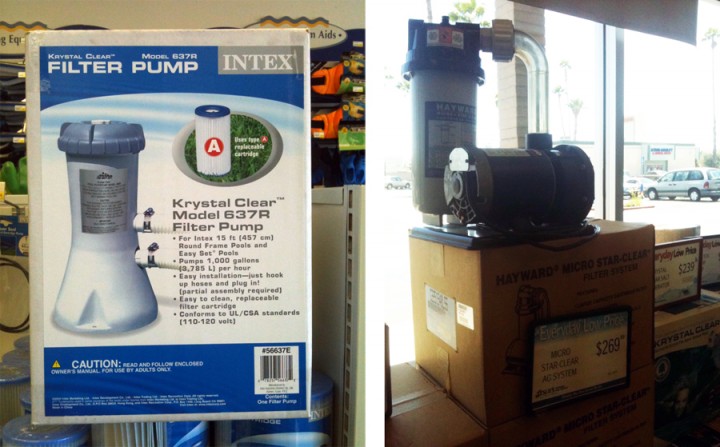 Sorry for the crappy iPhone pics.
I also went to the local pool supply place to check out pumps/filters. I found this small one for about $50, but it seems like a pretty temporary solution and the filters would need to be changed every two weeks. At $10 a pop, that seems like some pricey maintenance. This Hayward unit is $269 and the filter needs to be changed yearly. This more expensive unit seems like a bit of overkill for the size of the pool. I want something in the middle, something to filter 750 gallons easily and that can be installed on a pretty permanent bases. I was also thinking of doing this whole pool with salt water instead of worrying about chemicals and such.
Needless to say the pool store workers though I was a fucking idiot. I felt like one. I'm not sure how to solve the filtration / salt water / pump situation.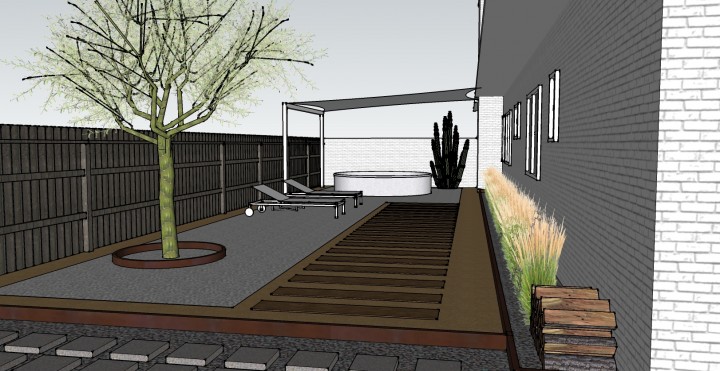 If this pool idea somehow works out then we would adjust the rest of the landscape. I want to throw down pea gravel in a big L shape over a base of decomposed granite. I also want to add a Palo Verde tree with a hot rolled steel ring around the base to echo the pool shape and a big cactus in the back. Then we would use railroad ties as a stepping pathway to the pool. I found this great image of a railroad tie driveway that inspired the idea but have totally lost it. Damn you internet!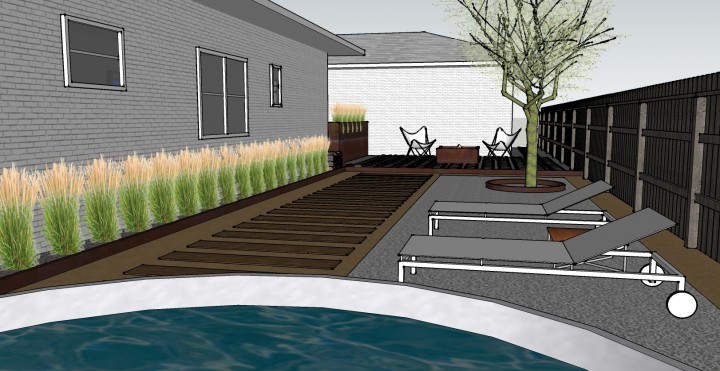 This is what it would look like when you are floating comfortably in the pool. We could get a couple of loungers to relax and sun bath nude on. No tan lines! Horrified neighbors!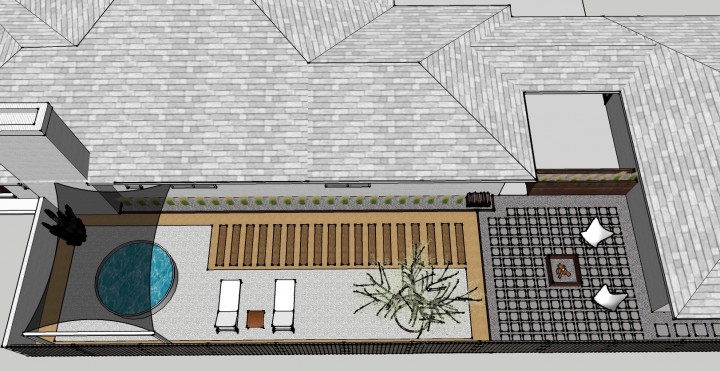 We would still have a sun shade over the pool to keep it all cool and shady and the masonry wall for privacy.
I think a small pool would be really great and usable thing to have out here in the desert. It's hot like 75% of the year and we've been just so desperate to take a cool dip for the last few years. So for $500 – $700 we could probably build this thing. Is it worth it? Or do we go the ugly doughboy route?
Here are some tank pool images I found over the week. I totally didn't keep track of where I found them at because I'm a terrible blogger. I haven't been able to track down a whole lot if info around on how to build one of these things…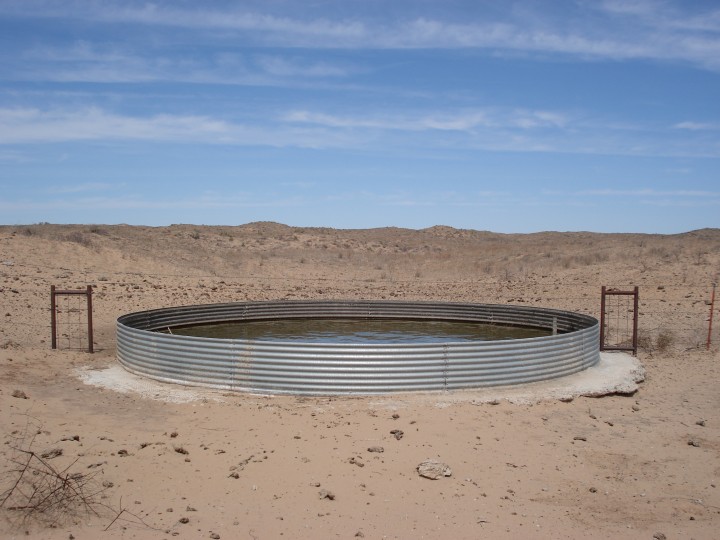 That green one looks horrifying. But its got a slide!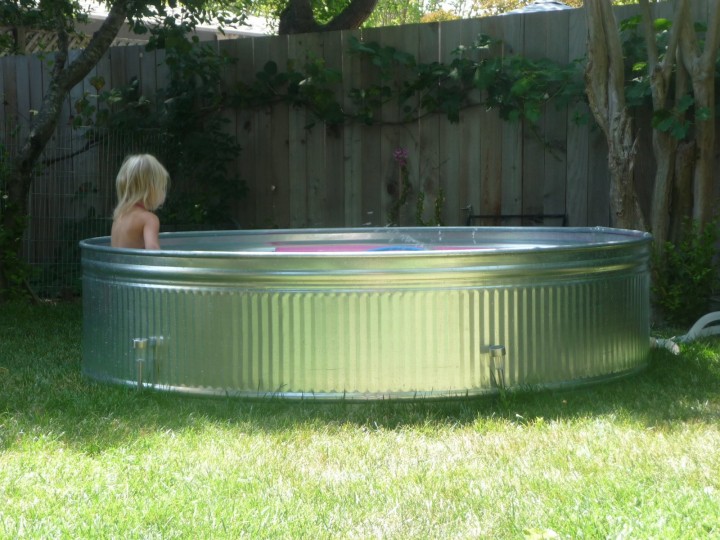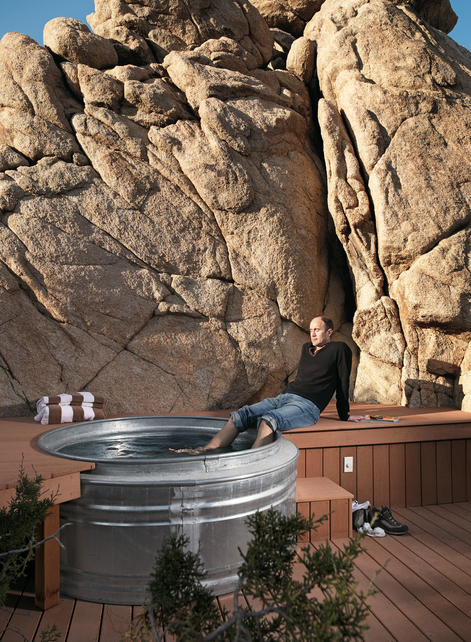 Stupid idea or brilliant? I can't tell yet. There is a whole lot of potential for failure.