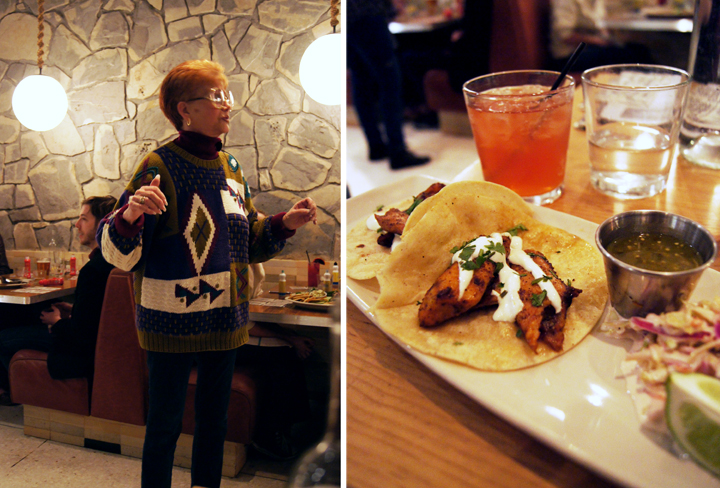 Last Monday I headed out with Sharon to meet up with Victoria and her gaggle of fine ladies at The Ace Hotel to check out Sissy Bingo with Linda Gerard "Fabulous". Linda Fabulous is the singing hostess (pictured above) who you might have run into while eating at Kings Highway. She's what The Ace deems to be a Palm Springs personality and can be both campy and a tad long winded.
Sometimes when you're in competitive Bingo mode and are desperate to win a game that requires basically no skill, you just want that next Bingo number called and not drawn out into a rambling monologue, another song or the same joke repeated over and over and over and over (it's not malignant its B-9!).
I had my fav things to sip/munch on while at Kings Highway, some fish tacos and a roadrunner cocktail – which consists of blackberry mulled Makers Mark and some ginger soda I believe? Whatever it is, its fucking delicious.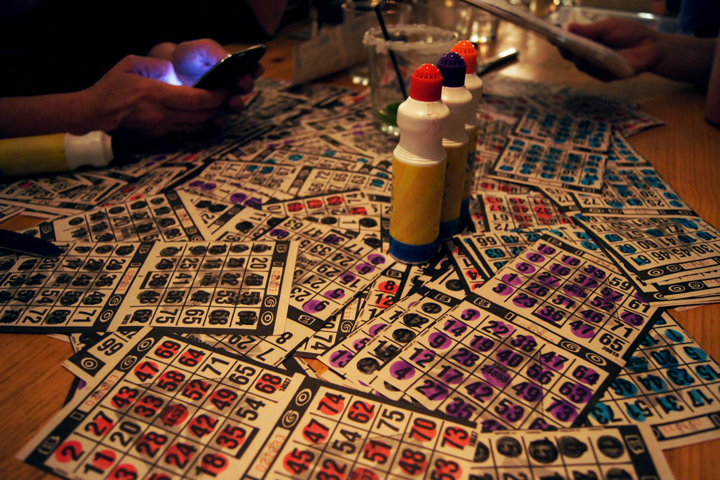 After hours of play, making up more than a quarter of the guests at Bingo and getting strategically competitive — we still lost hard core. LOOK AT THAT PILE OF LOSING CARDS – and still not one of us ladies went home with a Bingo. Total modernist conspiracy, it's the only logical explanation.
Well, Sissy Bingo happens every Monday at 7pm in the Kings Highway restaurant. You might just win a tote bag, or a six pack of ginger beer if you get really really lucky.