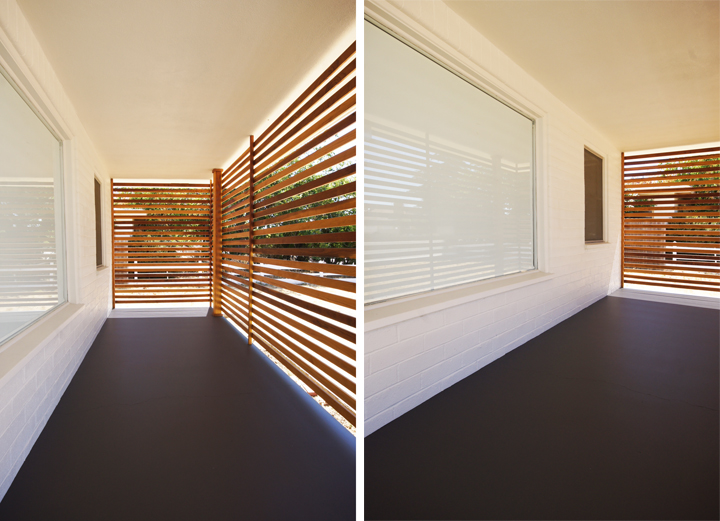 Wow. You guys have some opinions on porch paint.
Awesome.
To be fair, I thought it might be prudent to show some daytime images to give context to the twilight photos. At dusk the gray looks much darker, but during high noon it bleaches out a bit. I shot some pics real quick like (sorry for the deep shadows, this is probably the worst time to take pictures).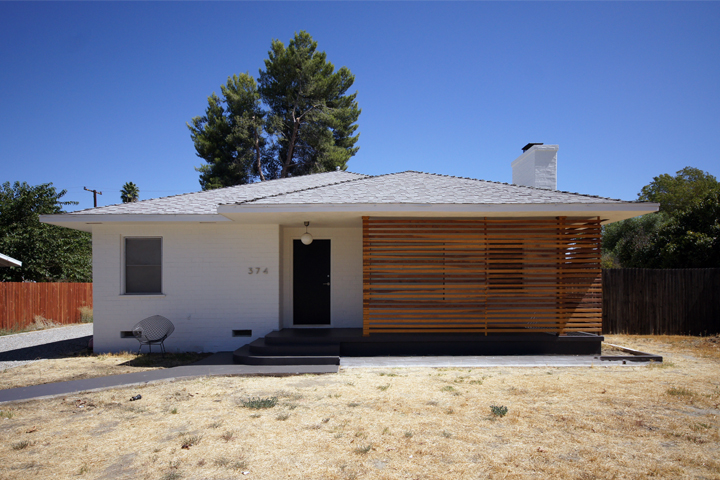 The porch and stairs seem really dark but those are just shadows, don't let them fool you! In real life it's more like a darkish mid-tone warm gray.
There isn't a second coat since we were still debating on what to do. We lived with it yesterday and now today and I think…I like it. Maybe I did have color shock.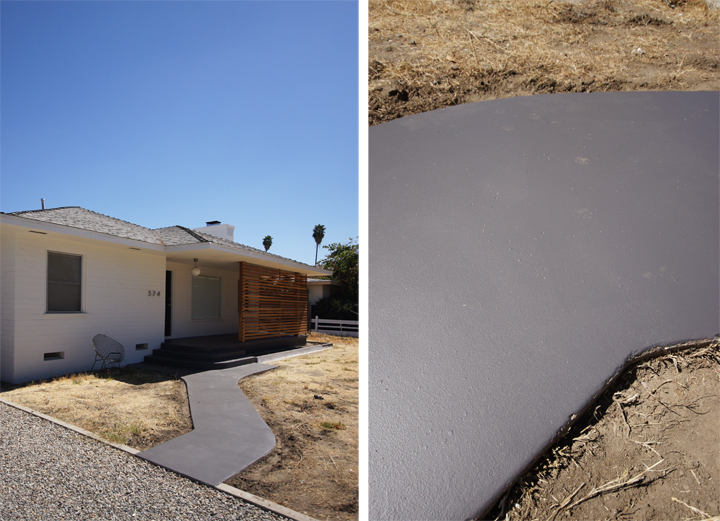 Yikes. It really needs a couple more coats. Check out those kitty prints.
Some voiced concerns were:
Heat ||  That cement is getting hot no matter what. Try walking on the back cement porch during noon and your bare feet will hurt. We just know to wear shoes during the summer.
Darkness || There is plenty of light on the porch at night, tripping won't be an issue. When we landscape we will be adding a pathway and lighting which will help out as well.
Dirt || Yeah, I agree. It's going to get dirty. No matter what color it is it's going to get filthy. Mostly from cats walking on it instead of people since our friends and neighbors tend to come to the back entrance to stop by. This is a habit I need to break with unexpected visitors. Sometimes you don't want people pepping through your back windows, because, say your blogging without pants on or something. Not that I would know anything about that.
The dirt issue will also be helped by landscaping. When our driveway was all dirt, everything was CONSTANTLY covered in a layer of filth. Since we graveled it, that issue is so much better. Now we just have pines needles everywhere from the neighbors gigantor stupid monster tree.
I think I'm going to paint out the rest of the porch with "Intellectual". I mean, come on, it's the smart move right? Don't worry I just punched myself in the face.
BOY 1. ME 0.
You win this time sucker. Stop gloating and go paint the second coat.