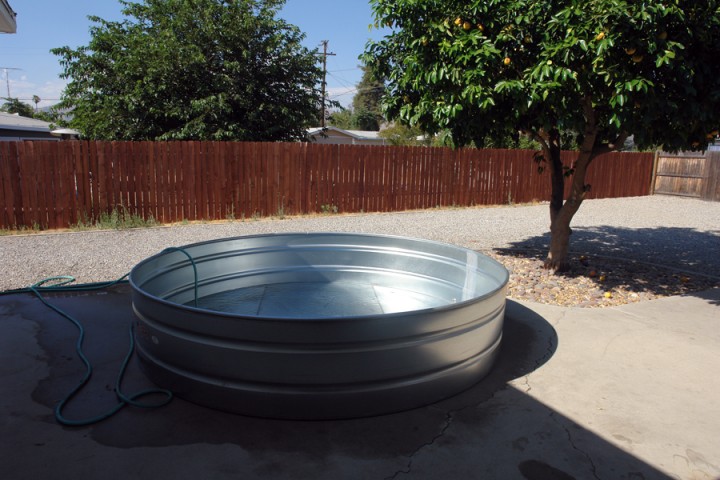 I know it's a bit premature (since the side yard is nowhere close to being ready to install the pool) but we went ahead and got ourselves a 10 foot galvanized livestock tank.
We were planning on restoring and painting the garage doors on my single day off this week, but since it's been a 100 plus degrees for some time I think my brain may have got a little fried from being overworked, overstressed and totally overheated. Pretty much I just said fuck it, there is no way we sanding and painting garage doors in this heat and we aren't driving two hours to the beach and I need to swim RIGHT NOW.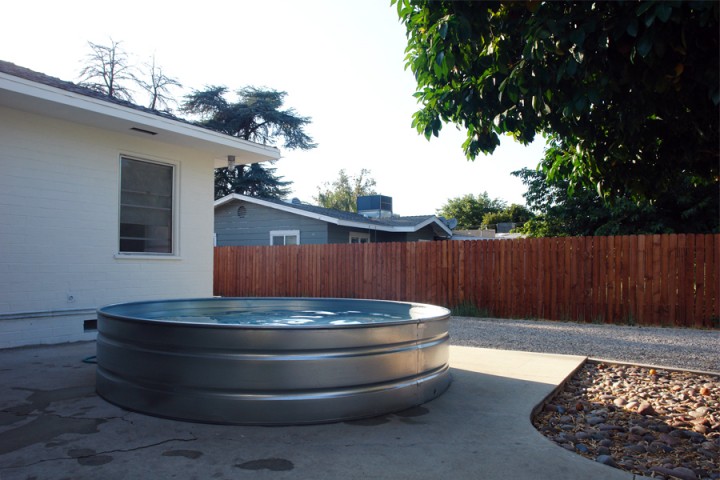 We went over to the local tack and feed store to pick out a tank and I was super disappointed to see that the 8 foot galvanized tanks were gone. The owner informed us that there was no chance of getting another shipment in for months and months and months…shit.
I had recently gotten a couple quotes from BH Tanks to have a custom tank made like this one; at about $1,300 – $1,500 it was out of our budget. We settled on this 10 foot biggie and at about $500 it was a little bigger and more expensive than we originally planned. We had to go home and remeasure the side yard to make sure it would fit – and with the yard at 16 feet wide the 10 footer is going to be a better fit.
Until we get the side yard cleaned out and ready to go, plumb out the tank and order our salt water pump and filter we are just going ahead and filling that bitch up. Total ghetto Hemet style our above ground pool out on the back patio. No filter, no chemicals, just an old fashioned cowboy style dipping trough. When the water gets too filthy to stand we are draining the tank into our sad and overheated grapefruit tree.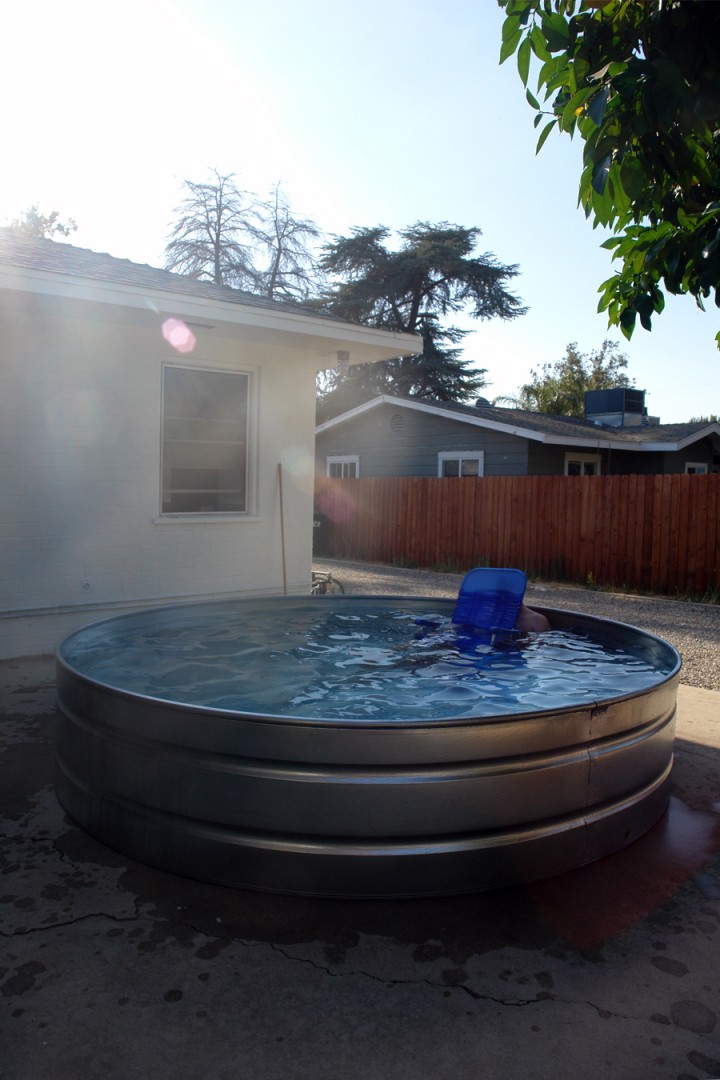 The Boy even went more ghetto style and brought in a folding plastic chair to sit in while in the pool. Classy.
I must have spent three hours soaking and swimming around in there and it was AWESOME. SO AWESOME. Seriously worth every penny – that's how happy I was. I haven't been that elated or relaxed in a long time – the Boy got his TV and I got me a pool. Now at least when we are doing projects outside in the 100 plus degree heat we can jump in the tank for a little cool down and get back to work.
I'm betting that we can get the side yard going since, big announcement, the long arduous battle that has been the exterior painting is ALMOST DONE. So close. So very close.